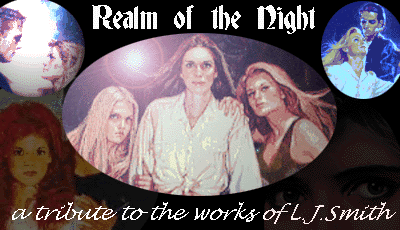 Night is peaceful, calm. The darkness is soothing to most. But there is more than it may seem....a sound barely noticeable to untrained human ears....a shadow slipping through its fellows....for the night has a thousand eyes....the substance of dreams comes true....and those that haunt nightmares can exist--if you believe....

Welcome to Realm of the Night--aka my L.J. Smith page! I'm near completion but there still may be a few unfinished pathways, so proceed with caution. Enjoy your journey through the night....


Last update - 6/28/01 - Had to get a new counter (blech). Also Fanspace mail is @#\\$#@$ up, so any page comments please send to Rowan@ananzi.co.za and there is a new addy for the Night World angel adoptions! Check the enclave for details! Watch the Celestial Enclave for new angels--more are in progress!!
humans have ventured into the realm.
















.The Night World Clique | Rowan Redfern.




HTML work copyright 2000-2001 by Ruby (Rowan). All books, their characters and the quotes on each series page are property of Lisa Jane Smith. Subpage graphics and the book link graphics were made by me, are only mine to use and cannot be borrowed. Graphics/backgrounds on the Galaxy's Creation page, such as the "Thierry/Hannah glow", may be borrowed only with my permission. Guestbook provided by Dreambook. Book cover scans borrowed from Kait/Hunter with permission. Please don't sue--this is merely a fan page. (unless you really want my James Darren CD and the draft of the two NW fics on my D drive....)